PRODUCT DETAILS
Colmi T9 Thermo watch is a smartwatch that tracks body temperature! It was developed during the crisis when there was a huge demand for thermometers. Clever engineers have come up with a real-time measurement of body temperature built-in a smartwatch that looks good and has all features that any other watch would have.
KEY FEATURES
Body temperature measurement - 24/7 body temperature measurement is a very quick and convenient method. Measuring body temperature has never been easier.
Urban fashion - Slim body, HD screen and custom dial allow you to use this watch for every occasion. Simply change the strap or dial and get that feeling of having a new watch. It is also waterproof, so do not worry when it's rainy outside! TPU strap is comfortable and breathable. no matter the workmanship or appearance, the overall exquisiteness will definitely make you addicted.
PPG Bio Tracking optical sensor - 2020 sensor will make sure you get more accurate heart rate monitoring, blood pressure and blood oxygen to improve overall health. You can also judge and record the state of a deep sleep, light sleep and awake to better understand the quality of your sleep.
Improve your exercise - The smartwatch has various sport modes and the app will help you to analyse your data and perform better.
Notifications - You can see incoming calls, text messages, Facebook, or WhatsApp when watch vibrates synchronously. Just raise your hand and read the message!
Battery life - Battery is 160mAh and will last up to 5 days. The watch has also optimised energy-saving cells to decrease energy consumption.
REVIEWS
Colmi T9 Thermo Smartwatch
Customer Reviews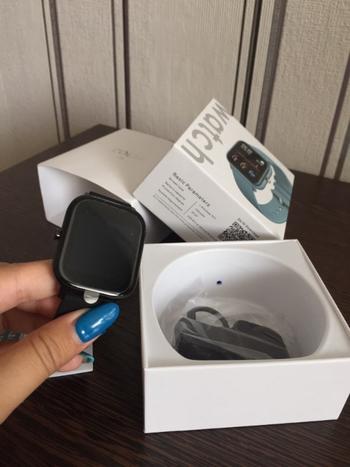 01/27/2021
Perfect
Excellent smart watch. Works great and is well worth the price. I love it! Definitely recommend this smart watch!
07/10/2022
Highly recommended
I like it more than normal temperature monitor
06/28/2022
Exactly what I was looking for
I pre-ordered this watch, came in about 4 days, So far so good